About Virtual Pediatric Urgent Care
Quality Care

Care is provided by trusted local pediatricians, who are connected to the state's largest and most comprehensive pediatric practice.

Save Money

Online visits are $25 or less, and insurance is not required.

Save Time

Most virtual visits take just 15 minutes, and we guarantee your visit will be completed within 1 hour during business hours.
ContentALink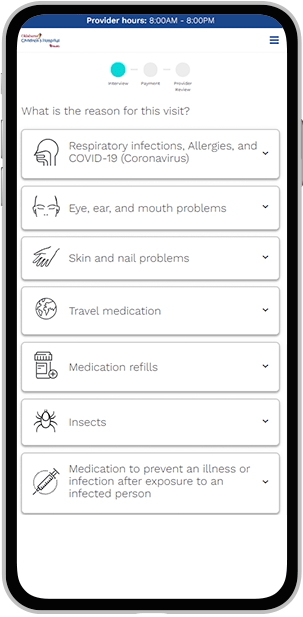 No appointments or long wait times.
Quick and convenient care available 24/7
How it Works
1Answer a few easy questions
2Receive a diagnosis from a board-certified provider that you can trust
3Choose where you want your prescription filled
4Start feeling better. (Really, that's all there is to it!)
MainstageCLink

24/7 Pediatric Emergency Room

The emergency department at Oklahoma Children's Hospital is the Oklahoma City's only dedicated 24/7 pediatric ER, with doctors and medical staff are dedicated to the healing of children.

In-Person Pediatric After Hours Urgent Care

We have two after hours urgent care locations in the Oklahoma City Metro, with on-site labs, x-ray, and diagnosis and treatment of minor wounds, burns, colds, flu and sports injuries.

Pediatric Virtual Urgent Care

Virtual visits with the same local, highly skilled OU Health pediatric experts who care for children in our hospitals. Our providers do their best to treat your child online, and if additional care is needed, they can help make recommendations for follow-up in-person care or emergent care.
ContentBLink
Commonly Treated through Virtual Urgent Care
Allergies

Athlete's Foot

Common Cold

Eczema

Hand Foot and Mouth Disease

Head Lice

Impetigo

Pink Eye

Ringworm

Skin Rash

Sinus Infection

Sore Throat

Stye

Swimmer's Ear
Oklahoma Children's - Kids First Pediatric Urgent Care – Edmond 2820 N. Kelly Ave.
Suite 100
Edmond, OK 73003

Oklahoma Children's - Kids First Pediatric Urgent Care – Oklahoma City 12516 N. May Ave.
Oklahoma City, OK 73120

Oklahoma Children's Hospital – Emergency 1200 N. Children's Ave.
Oklahoma City, OK 73104